In today's fast-paced world, keeping your life organized is crucial to achieving your goals and staying on top of your tasks. From work projects to personal goals, there are always things to remember and tasks to complete. Fortunately, Notion is a powerful tool that can help you stay organized and productive.
What is Notion?
Notion is an all-in-one workspace that can help you organize every aspect of your life. With Notion, you can create notes, to-do lists, project plans, and more, all in one place. Whether you're a student, a professional, or just someone looking to stay organized, Notion has something to offer.
Notion is a powerful productivity tool that offers a variety of features for individuals and teams. It provides a flexible and customizable workspace where you can manage your tasks, notes, projects, and databases all in one place.
It also comes with more than 150 free templates and now offers Notion AI for free for a limited time with any plan.
What are the benefits of using Notion?
One of the key benefits of using Notion is its flexibility. Notion offers a range of templates, allowing you to create customized pages for everything from project management to travel planning. You can also easily create your own templates or modify existing ones to suit your needs. With Notion, you're not limited to a rigid set of tools or workflows – you can create exactly what you need.
Another advantage of Notion is its collaboration features. Notion allows you to share pages with others, so you can work together on projects or share information. This can be especially useful for teams or families who need to coordinate their efforts.
Notion's database feature is another reason why it's such a powerful tool. You can create databases to store information on everything from books to contacts, and then use filters and sorting to quickly find what you need. This is especially useful if you have a large amount of data to manage.
Finally, Notion's user interface is both sleek and intuitive. It's easy to navigate and find what you need, whether you're using the web, desktop, or mobile app. Plus, Notion offers a range of keyboard shortcuts that can help you work more efficiently.
How much does it cost?
Notion offers both free and paid plans. The free plan includes a wide range of features, including unlimited pages, blocks, and the ability to collaborate with up to 5 guests. However, there are some limitations to the free plan. For example, you can only upload files up to 5MB in size, and you don't have access to certain advanced features, such as version history and custom templates.
Notion's paid plans, known as Plus, Business, and Enterprise, provide access to additional features and remove the limitations of the free plan. The Plus plan costs $8 per user per month when billed annually, or $10 when billed monthly. This plan includes everything in the Free plan and unlimited blocks for teams, unlimited file uploads, a 30-day page history and you may invite up to 100 guests.
The Business plan is designed for businesses and organizations and costs $15 per user per month when billed annually, or $18 when billed monthly. This plan includes all the features of the Plus plan, as well as SAML SSO (single sign-on), private team spaces, bulk pdf export, advanced page analytics, a 90-day page history and you may invite up to 250 guests. The Team plan also includes enhanced security features, such as data encryption at rest and in transit, and the ability to restrict access to certain data.
Notion also offers an Enterprise plan for larger organizations with more complex needs. This plan provides customized solutions, such as dedicated account management, onboarding and training, and custom contract terms. The Enterprise plan is priced based on the specific needs of the organization and requires a consultation with Notion's sales team.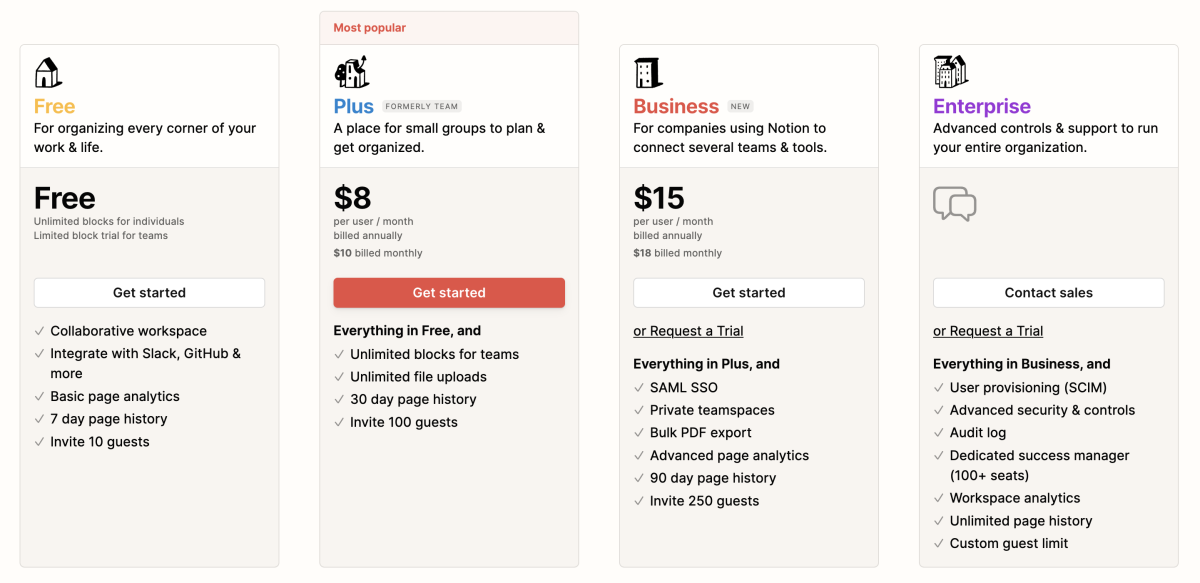 In conclusion, Notion is a versatile tool that can help you stay organized and productive in all aspects of your life. Its flexibility, collaboration features, database functionality, and user-friendly interface make it a great choice for anyone looking to take control of their life organization. So, why not give it a try and see how it can revolutionize your productivity?